What is StryxVR?
StryxVR is a Virtual Reality gallery created for the Oculus Quest 2 VR headset created by Stryx gallery with VR developer Ben Neal (Psicon Lab) .
The gallery is a recreation of the actual physical gallery space, complete with changing exhibitions. In Stryx VR you can see artwork and explore the Stryx Shop in an interactive virtual world. More information about the exhibitions and artists can be seen here and to visit the online Stryx Shop go here.
Overview
To experience StryxVR you will need an Oculus Quest 2 VR headset. The StryxVR app is available as an .apk file. To install this app on your Quest, you need to use the Sidequest software.
This is an early access, experimental release right now. If you have any technical troubles contact info@psiconlab.co.uk
Please note: using Sidequest is a temporary measure. Soon StryxVR will be available through the Facebook App Lab, and will be accessible to download without using Sidequest.
Set-up Guide
Download the StryxVR app
Download the StryxVR apk file from here: Download StryxVR.
App was last updated 08/04/2022. If you have used an older version - please update the app now.
Download Sidequest
Sidequest is a distributor of unofficial and independent Oculus Quest Apps. Follow these instructions to install Sidequest. https://sidequestvr.com/setup-howto
Install StryxVR to your headset using Sidequest (sideloading)
Once you have installed Sidequest, turn on your Quest, and plug it into your computer with a USB lead.
Make sure the dot (top left) is green – you may need to Allow Access (check in the headset for a dialogue box to do this).
Click the "Install Apk File From Folder on Computer" button, and select the StryxVR apk file you downloaded before. This will now install the app onto the headset.
Once installed, you will see a green confirmation message at the bottom of the screen.
You only need to do this stage to install the app once (or to update it in the future).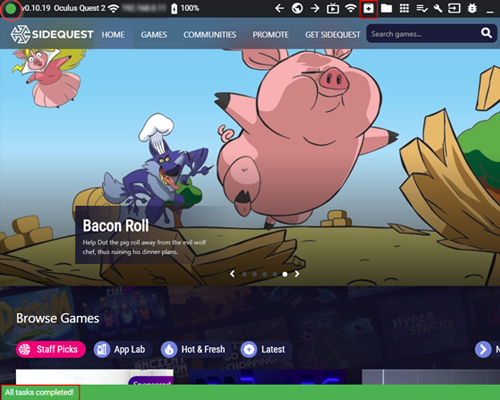 Launch the app

Once the app is installed, you can launch it from your your headset.
Put on your Quest headset.
Select "Apps" from your menu (3 dot grid icon).
Click the dropdown menu at the top right, then select "Unknown Sources".

"StryxVR" will now be listed in the apps. Select it to launch.
To uninstall the app, click the 3 dots to the right and choose "Uninstall".
In game controls
B button - menu on/off
A button - select from menu
Joysticks - walk and turn
Point your laser pointer at the menu and press the A Button to select an exhibition to load. The B button turns the menu on and off. Use the thumbsticks to walk around and explore.
You will need to be connected to wifi to access the exhibitions.